Although you'll see them on every street , there are some places where you can maximize your efforts. Of course the busier the traffic, the better chances of seeing different cars. So, apart from Havana, cities like Santiago de Cuba, Santa Clara and Cienfuegos have good potential.
Havana
The peso-taxis (taxi collectivo) all have their own set specific routes and pick up and drop off passengers along their route. In Havana their routes congregate around Parque de la Fraternidad (at the end of Paseo del Prado and Av. Simón Bolívar).
Main routes: the Paseo del Prado, Neptuno (with Calle L and Avenida 23), the famous seaside  promenade Malecón and Av. C.M. Céspedes around the parks and el Castillo. On Saturdays you may want to check out La Piragua next to the Hotel Nacional. Sometimes members of the Cuban auto club A lo Cubano gather there.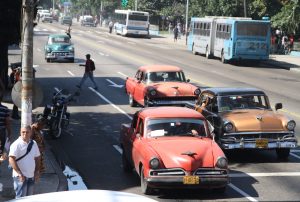 Varadero
In Varadero stroll along the city's Avenida Primera but also go to the mainland village south of the airport.
Santiago de Cuba
In Santiago de Cuba the areas around Parque Céspedes and Plaza Dolores are good.
Cienfuegos
A nice spot in Cienfuegos is the tree-lined Paseo del Prado. You can watch the traffic while sitting on a comfortable park bench in good company: Cubans with their songbirds and a statue of the mambo king Benny Moré.
Countryside
But do visit the countryside villages. They often have one or two (on either side of town) taxi stands. Some of my rarest finds are in these little towns.
This checklist is a supplement to the fieldguide. Keep track of your sightings and focus on what you haven't seen yet.
Good Luck!